Selecting the Right Commercial Moving Company: Factors to Consider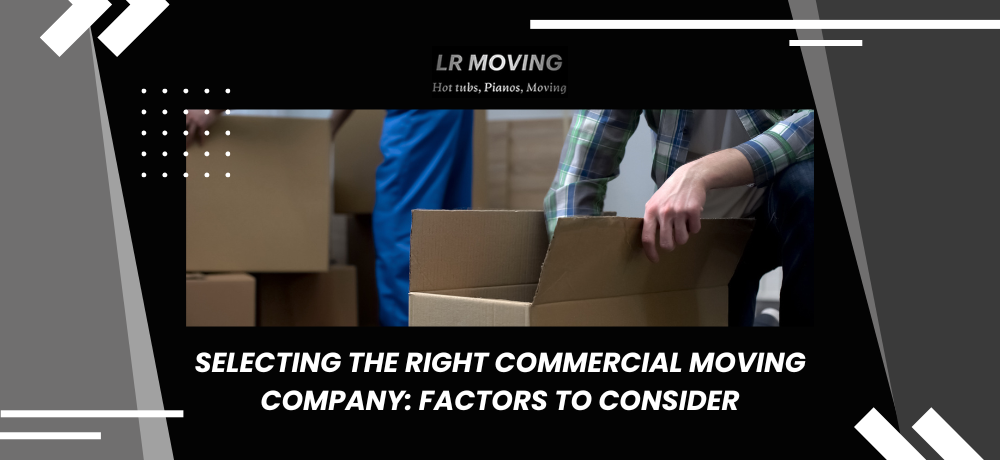 When it comes to commercial moves, selecting the right moving company is crucial. A smooth and efficient move can minimize downtime and ensure the safety of your valuable assets. In this blog, we will discuss the factors to consider when choosing a commercial moving company and why LR Moving & Deliveries is the best choice for your business.
Experience and Expertise
When selecting a commercial moving company, experience and expertise should be at the top of your list. When selecting the right commercial moving company, it is crucial to consider both experience and expertise. Here are some factors to consider:
1. Experience: Look for a moving company that has been in the industry for a significant period. Experience demonstrates that the company has successfully handled various commercial moves and understands the complexities involved.
2. Expertise: Consider the expertise of the moving company in handling commercial moves specifically. Commercial moves often involve specialized equipment, sensitive data, and valuable assets. Ensure that the company has the necessary expertise to handle these aspects with care and professionalism.
3. Reputation: Research the reputation of the moving company. Read customer reviews and testimonials to gauge the satisfaction levels of previous clients. A reputable company will have positive feedback and a track record of delivering excellent service.
4. Insurance and Licenses: Verify that the moving company has the appropriate licenses and insurance coverage. This ensures that they are legally authorized to operate and provides protection in case of any accidents or damages during the move.

Comprehensive Services
Another important factor to consider is the range of services offered by the moving company. Whether you need to relocate your office, retail store, or warehouse, we have the resources and capabilities to handle it all. From packing and organizing to transportation and unpacking, we provide a comprehensive solution for your commercial move.
1. Packing and Loading
A reputable commercial moving company offers comprehensive services that encompass both packaging and loading, as well as transportation and unpacking. When it comes to packaging and loading, the company provides high-quality packing materials and employs skilled movers who efficiently and carefully pack all office furniture, equipment, documents, and other items. They ensure that everything is properly secured and organized for transportation. The movers handle the loading and unloading of all items onto the moving truck, utilizing proper lifting techniques and equipment to prevent damage or injury.
2. Transportation and Unpacking
In terms of transportation and unpacking, the commercial moving company has a fleet of well-maintained vehicles and experienced drivers who ensure the safe and timely delivery of the belongings to the new location. They employ proper packing techniques and secure items with straps or restraints to prevent shifting during transit. Upon arrival at the new location, the movers unload and unpack all items, placing them in the designated areas according to the client's instructions. They also offer assistance with furniture assembly and the reinstallation of equipment if necessary. With these comprehensive services, a commercial moving company ensures a smooth and efficient relocation process for businesses.

Insurance and Licensing
Insurance
When selecting a commercial moving company, it is vital to consider their insurance coverage and licensing. These aspects play a crucial role in ensuring the safety of your belongings and protecting your business from potential risks and liabilities during the moving process.
A reputable commercial moving company will have comprehensive insurance coverage. This includes liability insurance, which safeguards your business from any damages or injuries that may occur during the move. It provides financial protection in case of accidents, property damage, or bodily harm. Additionally, cargo insurance is essential, as it covers the value of your belongings while they are in transit. This coverage compensates for any loss or damage that may occur during transportation, giving you peace of mind knowing that your items are protected.
Licensing
Licensing is a critical factor to consider. A professional commercial moving company should possess the necessary licenses and authorizations to operate legally. State licensing ensures compliance with local regulations, while federal licensing, such as a USDOT number, is required for interstate moves. Valid licensing demonstrates that the company meets industry standards, adheres to regulations, and has the proper qualifications to handle your move efficiently and safely.
By choosing a commercial moving company with adequate insurance coverage and proper licensing, you can have confidence in their ability to protect your belongings and navigate the moving process smoothly, ensuring a successful relocation for your business.

Reputation and References
A reputable commercial moving company should have a strong track record and positive references from past clients.
How do Reputation and References Matter?
Reputation and references play a significant role when selecting a commercial moving company. A company's reputation is built upon its track record of delivering reliable and high-quality moving services. Positive references from satisfied clients further validate the company's reputation and provide assurance to potential customers.
Why it is Important to build a Strong Reputation?
To build a strong reputation, a commercial moving company must prioritize several key factors. First and foremost, providing exceptional customer service is essential. This involves being responsive, communicative, and attentive to the unique needs and concerns of each client. Timeliness and reliability are also crucial, as businesses rely on efficient moving services to minimize downtime and disruptions.
Secondly, maintaining a team of experienced and skilled professionals is vital. A reputable moving company invests in training its staff, ensuring they have the expertise to handle various types of moves and navigate any challenges that may arise. By consistently delivering exceptional service and exceeding client expectations, a commercial moving company can build a solid reputation and garner positive references, which are invaluable in attracting new customers and establishing trust in the industry.
Competitive Pricing
Competitive pricing is a crucial factor when selecting a commercial moving company. While it is important to consider the quality of service and reputation, pricing also plays a significant role in making a decision. A reputable commercial moving company will offer fair and competitive pricing that aligns with the services provided. Transparency in pricing, along with the ability to provide accurate and detailed cost estimates, helps businesses make informed decisions and ensures they receive the best value for their investment in the moving process.
While cost should not be the sole determining factor, it is important to find a commercial moving company that offers competitive pricing. LR Moving & Deliveries understands the importance of staying within budget. We provide transparent and competitive pricing, ensuring that you get the best value for your investment.
Selecting the right commercial moving company is crucial for a successful and stress-free move. Consider factors such as experience, comprehensive services, insurance and licensing, reputation, and competitive pricing when making your decision. If you're looking for a reliable and experienced commercial moving company, contact LR Moving & Deliveries. We check all the boxes, offering over 15 years of experience, a wide range of services, insurance coverage, a strong reputation, and competitive pricing.
Get in touch with us today
To learn more about what we do, please click here. To contact us, please click here or call us at (519)619-6917.
---
---