A Beginner's Guide To Staging Your Home For Sale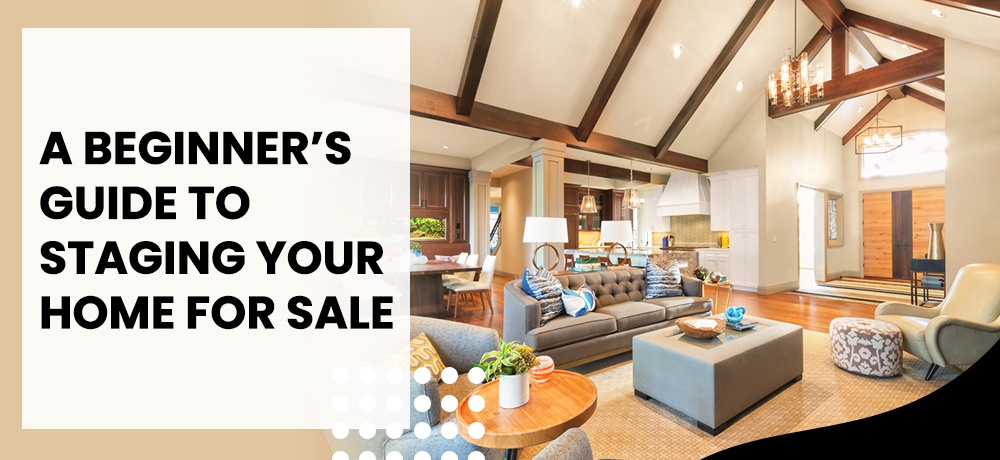 When a realtor talks about staging your home, they are referring to a method of decorating your home that is designed to showcase its best assets, impress buyers, and sell it quickly for the highest price possible. Because not all sellers decide to stage their home, you will be at an advantage if you go the extra mile to stage your home.
Although staging is optional, we strongly recommend it. Potential buyers aren't just looking for a roof to live under, they are also looking for a way to fulfill their dreams and improve their lifestyles. Staging can create this dream-like experience for the buyer, which will ultimately lead to generating more money for you and an assured sale. At LR Moving & Deliveries, we want to make the sale of your home and relocation as stress-free as possible. Therefore we have put together a beginner's guide to staging your home for sale.
Getting Started
Set goals: What do you want your home to feel to others? What do you wish to gain from the work you are going to put in? Is it to get a higher value for your home or a quick sale? How much time are you willing to put in for this task? What is your budget? All of this needs to be dealt with before you even start the staging process, as it will help you formulate a proper plan to move forward with. Once you answer these questions, you will have a basic idea of what the next steps should be.
Clean and declutter: It is essential that you o do a thorough deep clean, this includes scrubbing the baseboards, removing cobwebs, dusting the furniture, etc. Make sure your home is extremely clean. Once that is done, the next step is to declutter. Getting rid of unwanted furniture and other small items allows your home to look larger and more appealing.
Next Steps
Understand the buyer: A buyer is out there looking at a number of different houses to find their dream house. This is why it is up to you to put in the effort to create a strong first impression to give you the edge you need to stand out from the competition. Put yourself in the shoes of the buyer. You want them to not only find your house appealing but also develop a special emotional connection with it as it helps them feel confident about investing money in your home. You want them to see it as their home already, not your home.
Talk to a realtor: They have to do this every day and they have the knowledge needed for getting the task done on time and within budget. Because of their experience, they are well aware of what consumers are looking for and also have the right connections with insights into the market. They can also guide you to a professional staging agent who can bring with them more knowledge that will help in the sale of your home.
Advice From The Pros
Stick to neutrals: As a seller, it is your duty to make sure that your house is styled in a way that isn't too taste specific. In today's market, you cannot afford to alienate the masses by going with specific funky paints and art pieces. This is why it is a good idea to remain neutral while adding a bit of style to your house, as it will always be trendy and leave a blank palette for future homeowners to do anything with. However, you can add a few pops of colors through rugs, fresh flowers, and minimal table decor.
Learn to let go: Letting go is an important trait to have. Do not keep items that you haven't used or touched in a long time, either throw them away or donate them. Remember, only keep items that are useful or have a certain sentimental value. It is also wise to store the sentimental personal items in a storage facility or out of eyesight as it will help declutter the room and also ensure that the buyer does not feel too uncomfortable seeing your personal items and memories all throughout a house they see themselves living in.
As a leading family-owned and operated business in London, Ontario, we have been providing full-service residential moving for over fifteen years. While we believe our core values of honesty and integrity will keep us running for a long time, it is our reliability and fairness that have earned us a reputation. We treat and see everyone as equal. All their belongings get treated with the utmost care and professional touch. We make it our topmost priority to consistently provide our clients with excellent service and at a fair price.
Our various services include moving and relocation services, residential moving services, student and senior moving services, commercial moving services, in-house moving, loading/unloading containers and trucks, deliveries, hot tub moving services, piano moving services, and specialty moving services. We offer these services to clients across London, Kitchener, Cambridge, Brantford, Port Rowan, Bayfield, and surrounding areas.
Visit our website to learn more or contact LR Moving & Deliveries today.
---
---