Top Five Things To Look For In A Moving Company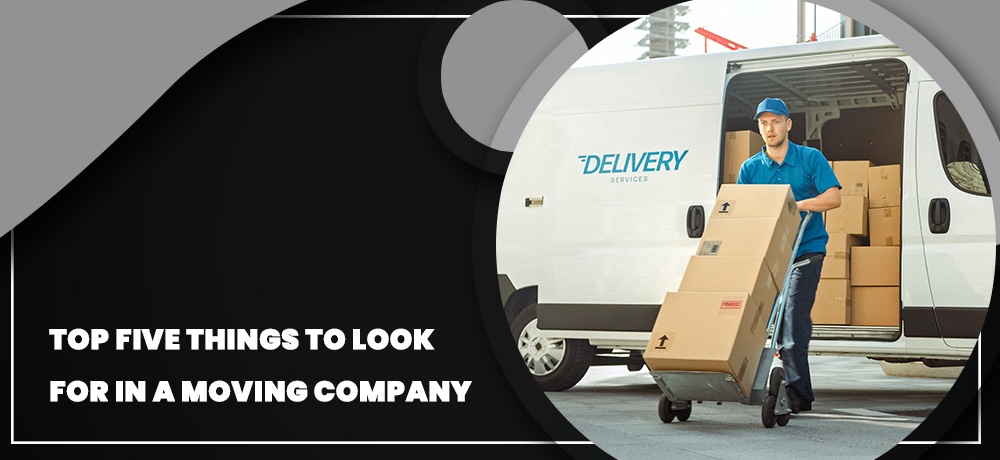 Moving can be overwhelming at times. You are meeting new people, experiencing a new way of life, and getting out of your comfort zone, but as exciting as that sounds, it could also get very stressful due to the planning, packing, and moving involved. One way to stop worrying about these factors is by hiring movers who make this process a whole lot easier for you and your loved ones. Licensed movers won't just take the heavy lifting off your hands; they will also make the entire experience smoother and save up your time for other necessary activities throughout the moving day, such as catching up with your friends or neighbors for one last time before you move out.
However, choosing a random mover won't work as there's always the risk of coming across bad movers. You have to know what to look for in a moving company so that you never regret your choice of not going with the pros. To help you make the right choice, we have listed five things to look at in any moving company. These points will help decide if they are good enough to make your relocation an easy and memorable one.
1. Recommendations
As you are about to trust your valuable possessions to strangers, you need to know how reliable the mover is. Try reaching out to people who have used mover services in your area, ask about their experiences and who they would recommend. The chances are that few people may have had a negative experience with a top-rated moving company – unprofessional approach or unexpected fees. In any case, it's great to learn from reliable sources the names of moving companies you would better stay away from. If anybody you know suggests you a professional mover, request more specific details to help you make the right choice.
2. Reputation
Once you have listed potential recommendations about moving companies from people you know and trust, use online reviews to learn more about them. People usually leave reviews if they have had a good or an awful experience, and both of those are important to know before you hire a moving company. And while you should let customer reviews – either positive, negative or neutral – lead you in hiring a top-rated mover, keep in mind that moving company reviews and ratings are pretty subjective. In other words, don't just make your decision based on online reviews. You should also use different techniques to find the best mover due to the presence of fake reviews as well.
3. Value
When you call a professional mover to book a service, they will give you a quote based on the number of people and the number of hours you require them. However, they can't give you a set estimate over a call, but they do give you a general idea of how much you'll be spending. So, the base price won't include additional packing materials you may require, potentially higher rates to move heavy objects or other incidental add-ons. While looking for an affordable mover, your objective should be looking for a good balance between cost and quality. Get two to three in-home cost estimates and compare them correctly to pick the moving company that offers the best price with the best conditions. Make sure to ask about what constitutes an extra fee, and if the company isn't forthcoming with the details, move on to another mover.
4. Experience
Another important criterion to look for before approaching a mover company is years of experience and practice. No matter how you look at it, you shouldn't disregard the experience as one of the most important factors when picking a mover. Of course, a long record of a company will not certainly mean excellent service, but the mere fact of staying competitive for years indicates that the mover must be doing something right. Besides, you want to choose an experienced and capable company who will know how to tackle every possible house moving problem that may come their way. While shopping for the best professional mover, remember to ask, "How long has your company been in business?" so that you can choose a moving company that has established its professionalism and competency over time.
5. Professionalism
Not all moving companies care about being professional with their duties. Their primary mission is to move your goods and your belongings as quickly as possible so they can get on to the next task. This is, however, very complex with movers who are professionals. They will reliably protect your belongings to avoid any accidents while moving and get the correct number of movers to get on the job so it can come out clean and proper. Additionally, stay away from moving companies that decline to visit your home and insist on giving you estimates over the phone or by mail. Ultimately, it would help if you had a mover that will act professionally and assign you a price estimate after meticulous inspection of your home and the items you're moving to the new residence.
Would you like to have a reputable moving company assist you with moving into your new home or office? For over 15 years, LR Moving & Deliveries has provided moving services in London, Ontario. Our team comprises trained, experienced, and trustworthy movers who love going the extra mile to help you support your moving needs and provide you with a stress-free move. Our staff of movers, packers, truck loaders and storage movers are experienced in all facets of a thriving residential or commercial move.
At LR Moving & Deliveries, we pride ourselves on our exceptional communication and move expertise to ensure all your belongings are managed with care and delivered to you on time.
If you're looking for a moving company serving clients across London, Kitchener, Cambridge, Brantford, Port Rowan, Bayfield and surrounding areas. reach out to LR Moving & Deliveries.
LR Moving is a family-owned and operated business, providing full-service residential moving across London and South Western Ontario for over 15 years. Residential, Commercial, Hot Tubs, Pianos, Specialty Moves, Deliveries, Insured and Better Business Bureau Members.
To learn more about the services we offer, please click here or get in touch with us by clicking here.
---
---