A Beginner's Guide For Packing And Preparing To Move Or Relocate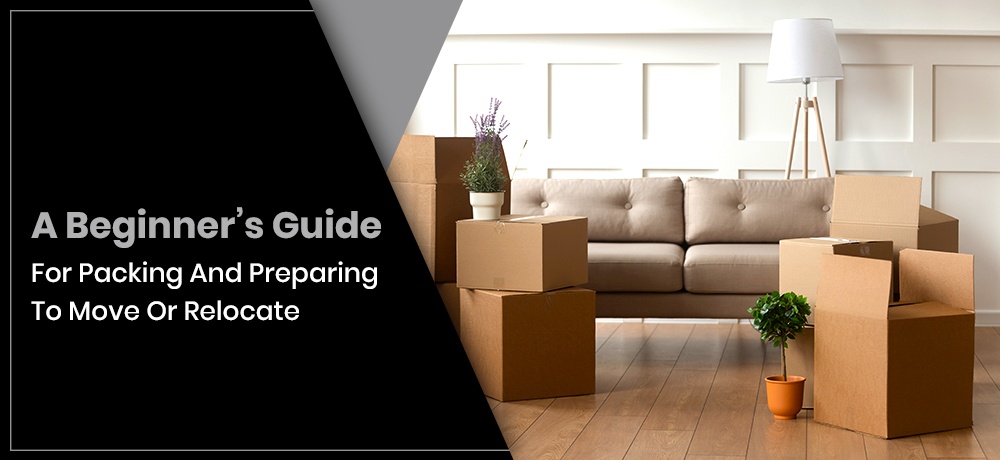 Whenever you move, a task that takes the most time and requires the most patience is packing all your belongings and having them ready for when the moving truck arrives. At first, it may seem impossible. You may have a lot to pack and unpack, along with sorting out children and pets, arranging for overnight accommodation and transport for long journeys, key collection, last-minute cleaning, etc. To prevent all of these responsibilities from overwhelming you and putting off the task of packing, it's vital to prepare in advance.
In fact, your preparedness is what can make or break the whole move. So you want to make sure you're ready for the process and can allocate sufficient time to pack all of your belongings and deal with other requirements as well. To help you out, the experts at LR Moving & Deliveries have created a Beginner's Guide for packing and preparing to move or relocate. In this guide, you'll find helpful tips and suggestions that will make your move as stress-free as possible.
Getting Started
Do a little research: It is essential to do some research before beginning the process to figure out if you want to take on this task yourself or with the help of a professional. A professional will have more experience on how to pack and transport your belongings. They will also be able to advise you on how to go about the preparing, packing, and moving process.
Determine what you want to keep: The professionals will help you move, but in the end, YOU are going to have to decide on what you want to keep, throw away and donate. Making a detailed list of items based on what you intend to do with your possessions will be of great help later on in the packing process.
Next Steps
Prepare timelines: Depending on your plans, you need to start packing at a certain time to vacate your current house and move into your new one. Preparing a schedule in advance will ensure that you stick to it and have everything ready when it needs to be packed and transported. Doing things last minute can only lead to confusion or, worse, misplaced items and costly delays.
Make a checklist or to-do list: Having a written or digital checklist can help you ensure that everything is organized in a way that is easily accessible later on. It will also help you when discarding, donating, and packing all the items that you need and do not need. Similarly, with a list of to-dos, you're less likely to procrastinate.
Acquire packaging: If you decide to go the DIY way, you need to ensure that your valuables are carefully packed and transported. For this, you will need to get a hold of cardboard boxes, bubble wrap, packing peanuts, masking tape, etc. A professional moving company would be able to buy these products at a subsidized price and use them in the most efficient way.
Advice From The Pros
Seek guidance: Moving can be stressful and overwhelming, and part of the stress has to do with packing up the entire house. While it may seem impossible, with the help of a professional, it can be a pleasant experience. It always helps to hire a professional, or at least consult one so that you can have a basic understanding of where to begin and how to proceed. Your friends or cohabitants can also be helpful in some way or the other, be it with packing or transporting.
Don't hoard items: New beginnings are always accompanied by the need to leave some things in the past. The same goes for your belongings. Discard any ornament or piece of furniture if it is old, broken, or just not serving you well. Over-hoarding things you do not require can make packing and transporting even more difficult, not to mention costly.
Don't leave it until the last minute: Procrastination will only lead to uncertainty and chaos. Being unprepared and unorganized leads to broken furniture and missed deadlines. Give yourself sufficient time before the move to set up the movers, organize, declutter, pack, shop, and buy or rent a new home. If you stick to your plan, you will be able to avoid feeling stressed. Additionally, a professional moving company can take up all the responsibilities and ensure all your items are delivered safely and on time to your new home.
Update the parties involved: Set some time aside for a briefing with your movers. It will help avoid confusion on the morning of the move. Moreover, this step will help you sleep a little easier (in the few hours you get), knowing that people know what their responsibilities are and when you need them. Not giving out all information required before the moving date or not updating other parties involved can cause unnecessary confusion and delays.
At LR Moving & Deliveries, our goal is to exceed your expectations. As the go-to experts in moving, our company has been blessed as the population boom and new developments resulted in our rapid expansion and profitability right from the word go. We always operate according to safety guidelines set by the state to protect our clients and their belongings. But, the COVID-19 pandemic has also necessitated extra hygiene measures, which we take very seriously. We are a mobile business and are proud of the convenience we offer the southwestern Ontario community. We consistently deliver and are open from Monday to Saturday from 7 am to 5 pm and even on Sunday from 9 am to 12 pm. Visit our website to learn more or contact LR Moving & Deliveries today!
---
---